AFTERNOON CLASSICAL CONCERTS
with
THE SOLOISTS
Malcolm Evans started playing the violin at the age of eleven, studying with popular local violin teacher, Joan Meadows. Spurred on by Joan's inspiring teaching and cooking (Sunday afternoon music making was always followed by afternoon tea with home made chocolate éclairs!), Malcolm made sufficient progress to be taken on by well known Bournemouth based teacher, Nicholas Roth. Malcolm subsequently studied with Nick Roth at Trinity College of Music, London, gaining his Licentiate Diplomas in teaching and performing.
Malcolm and his family moved to Dorset about two years ago. He has since then been teaching and playing the violin throughout East Dorset.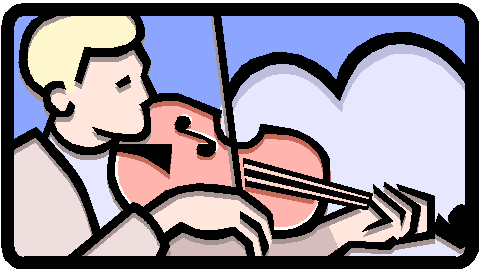 &
Stuart Darling BMus DipABRSM has already had an extremely varied musical career at the age of 21. He began his classical piano training aged 11, and, at school, was frequently coerced to accompany his peers in concerts, usually with about 30 seconds notice (after their original accompanist decided they were too nervous to perform!) Fumbling through pieces in this manner over the years, has given him the ability to sight-read music to a very high standard. When asked to perform here today, his first reaction was relief that he would actually get some time to practice!
At age 13 he formed his own 3-piece band playing covers of piano-led blues songs, and for several years played keyboards in a local youth big band. He has composed and directed the music for an amateur dramatic society, and also played piano in several musicals including 'Crazy for You' and 'Anything Goes'. At age 16, after a chance meeting, he was asked to join a professional rock band and has since played in venues nationwide.
Since graduating from University this summer, Stuart has taken up teaching the Piano and is always on the look out for exciting and unusual opportunities, to which he can devote his time and talent.
These Concerts will normally take place regularly in the
MEMORIAL HALL VERWOOD.
Tickets are available from the Town Council Office, 28 Vicarage Rd.
Mon/Fri 9 a.m. to 1 p.m.
For ticket availability contact
O1202 822229
see the "What's On" page for details.