This six peice band was formed in 1972 and since then the personnel have remained virtually unchanged.
From 1985 through to 1994 Cuff Billett was part of Butch Thompson's "King Oliver Centennial Band" touring the UK and Europe and broadcasting in New York in 1993.
He has also appeared on unofficial recordings with Bud Freeman, Bill Coleman, "Peanuts" Hucko, Al Casey, Johnny Varro, Benny Waters and the Harlem Jazz and Blues Band. Since the time with Barry Martyn there have been issued recordings with the New Europa Jazz Band, Ralph Sutton and Alton Purnell.
In January 1998 he visited New Orleans and made recordings with Sammy Rimington and New Orleans musicians which were issued on the 504 label.
Cuff is also a long term member of the "Excelsior Brass Band" and for the last 4 years he has guested with the Rudi Balliu Society Serenaders for the Ghent festival week.
The aim of the band is to offer a free-wheeling style, playing lesser known tunes from the 20's - 30's, introducing these refreshingly interesting melodies to a wider audience. The band has played festivals in Switzerland, Germany and Belgium.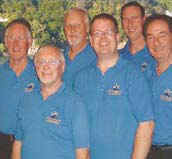 Lively and exciting music in the New Orleans and Traditional styles of jazz. Formed and lead by brilliant reedsman, Jeremy Huggett in 2005, this six-piece line-up features some of the top musicians in the U.K.
John Maddocks' Jazzmen headed the first birthday celebration of the Verwood Traditional Jazz Club in April 2008. John Maddocks, one of Britain 's most outstanding and popular reeds players, has evolved his own style based on that of the great Johnny Dodds. This popular band has been playing together for over 35 years. They have their own sound brought about mainly by the unique and driving style of John's clarinet playing. Since moving to Dorset, in 1973, he has been leading his Jazzmen to wide acclaim across the UK and in Europe .
This band was launched as a fully fledged 6 piece in the year 2000 at the North Cotswold Jazz Club, though Bude Jazz Festival regulars may recall some sensational sessions in the preceding years shared by the multi-reeds stars John Maddocks and George Huxley. The North Cotswold session was so successful that George and John have continued to put the band together for special occasions.
In July 2003, Peter Kings wrote:-
I have known and admired George Huxley and John Maddocks for quite a few years and I've recorded both of them several times, but prior to this session I had only once recorded them together. That was at Bude in 1999 when George was a guest with John Maddocks' Down Home Jazzers. (Not released). I think it was the first time they had played together and their rapport and ability to create spontaneous and exciting hot jazz was immediately apparent.
The name of the band is well-chosen, for what we have here is no cheap cutting contest but a fine example of real musical teamwork between two world-class reed-men at the top of their form, ably assisted by a superb four-piece rhythm section.
This is a musical match made in heaven - enjoy it!
Appearing with George and John are:-
Jon Penn, Pianist.
John Fellows, Bass.
Geoff Over, Banjo, Guitar.
Barry Norman, Drums.
Richard Leach's 7 Stars of Jazz has a style reminiscent of the Alex Welsh Band, which, from the mid 1950's to the early 1980's, was Britain's foremost Chicago/Dixieland style jazz band............. Please visit the website for full details.
Renamed from the Chris Blount Band a few years after the untimely death of Chris in 1998, the Band play in the style set by Chris. Based on the famous bands from the 1940s and beyond, the influence of the likes of Bunk Johnson, George Lewis, Kid Thomas, etc., can clearly be heard in this extremely professional band which has an exceptional international profile.
Dave Stradwick moved to Sussex for a quiter life and stepped down from leading "The Vintage Jazz Band" after many years at the helm. However it soon became obvious that people missed his humour fronting a band and so he decided to form "The Sussex Jazz Kings". In teh opinion of many, this popular band is a fine exponent of happy traditional jazz in the broad New Orleans style.